Check out this article from Motorcyclist's Post about DirtDaze! Click here!
They did one about Americade too! Click here!
---
Check out this great review of DirtDaze 2017 in OTL Magazine by BMW Riders Association…
Like what you read? Sign up with the BMW RA for just $35 a year ($90 for 3 years). Receive 6 issues of OTL per annum and access to a tremendous, fun, riding resource!
---
DirtDaze – The Next Big Event for Adventure Motorcycling? By: ADV Moto Magazine!
Americade has an extensive 35 year history, attracting tens of thousands of riders from all over North America each year. While Americade generally tailors towards street motorcyclists, it's no secret that the dual-sport/ADV community is the fastest growing segment of the motorcycle industry. DirtDaze (or "Adventurecade" as we like to call it), is the off-road division of Americade and takes place during the same week. It's a short hop and skip down the road from the main event, and at this year's DirtDaze, hosted June 6th-10th, we saw several Americadeattendees roll into The Painted Pony Rodeo to "see what this adventure thing is all about." We expect that year after year, Americade will help to fuel DirtDaze, not only bringing interest to our market, but even converting street riders to dual sport enthusiasts all together.
Home base for the DirtDaze Rally is on a beautiful ranch at Lake Luzurne, NY. The Painted Pony Rodeo is a perfect venue to accommodate hundreds of rally attendees. Campers can find a comfy spot to pitch up a tent in a rolling field, not far from the farm's stables. If you're not one for wildlife, you may not enjoy the cattle conversing with each other all night, but earplugs will help you get sound sleep. Those who decided to stay for most or the entire rally will appreciate the private showers, which were constructed right before last year's DirtDaze event. June in Lake George offers warm days and cool nights, a camper's dream. Two large pavilions provided more than enough shade to keep out of the sun. The ranch also features a saloon that serves food (and beer) all day. It also worked as a staging area for presentations, including ADVMoto's own Movie Night, where we showcased Backcountry Discovery Route's latest film, featuring Nevada.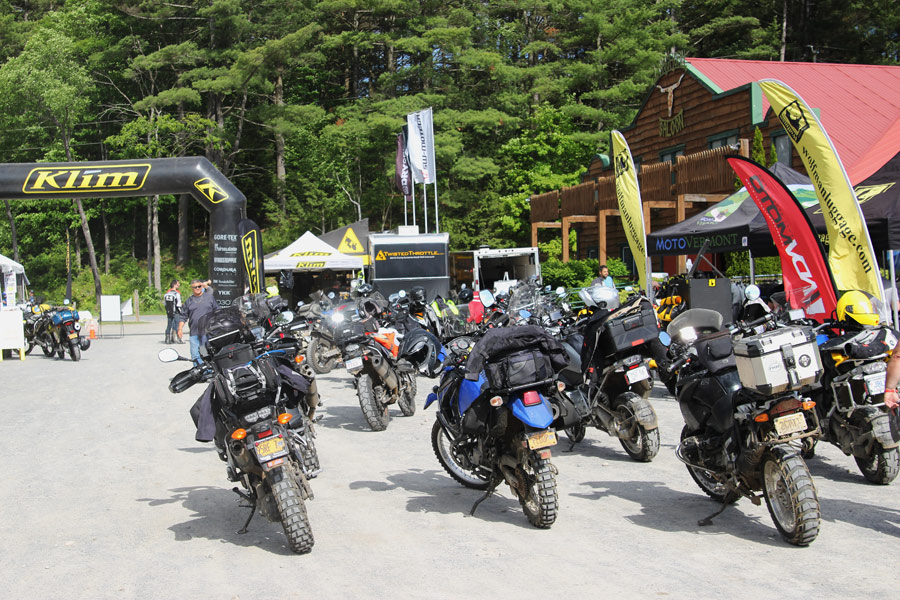 If you want to get better at riding your motorcycle, you might as well learn from one of the best. Off-road racing legend, Jimmy Lewis and his wife, Heather, taught two schools each day. The Introductory Adventure Bike class took place in the morning, teaching students the basics of body positions and bike control, while the afternoon Intermediate Adventure Bike training had students practicing more advanced drills. Even though Jimmy has an extensive racing background, his schools focused on safely executing slow, technical maneuvers. Because, of course, in order to be good going fast, you must first master going slow.
Christian Dutcher and his team of organizers had their plates full, filling up a schedule that lasts for five days (normal dual sport rallies last a weekend). Fortunately Christian started planning this year's itinerary at the end of last year's event to create a program that was packed with presentations, workshops, and contests. Hosting a rally is no easy feat. Fortunately, the organizers of Americade knows how to put together a proper event.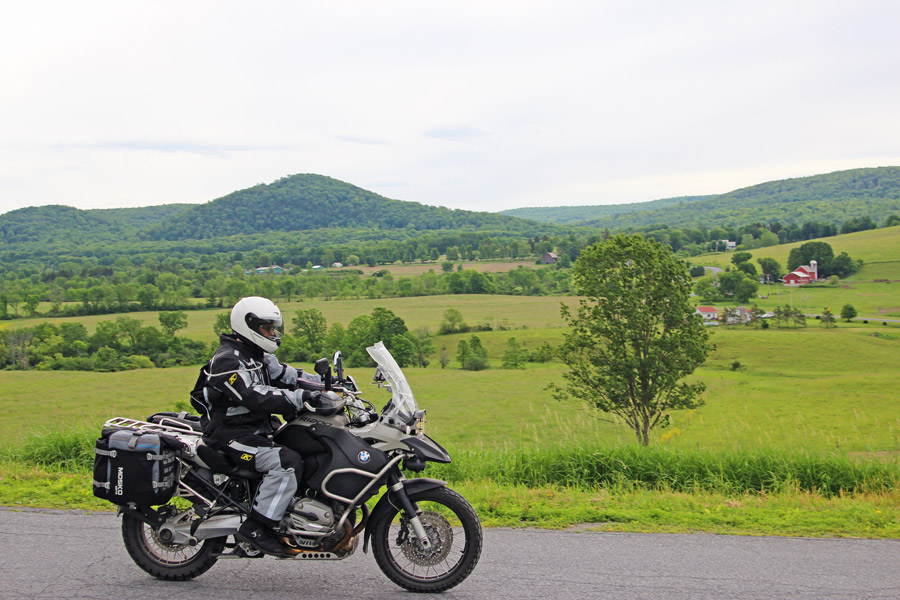 Brigitte Lacombe's – My Conquest of the Desert, was one of our favorite presentations of the event. The "single-mother-gone-rally-racer" shared her enlightening and humorous story of competing in the Roses de Sables, an African navigation rally. Other attractions that night included Twisted Throttle's lighting seminar and contest, where the looser of the event won a set of fresh Denali auxiliary lighting. Over the years, we've seen some bad lighting on motorcycles, but some of the bikes in this competition didn't do much better than candle light. Props to Erik and Jessica for putting on a fun and "light-hearted" contest!
Off-road test rides took place right on the premises. You could roll out of your tent, slap on your riding boots, go for a quick BRAAP through the woods on a fancy new Beta, then catch a presentation on Adventure Biking Through Africa. Attendees would have a difficult time being bored at DirtDaze, especially on Saturday when Teach McNeil put on a killer stunt show, then raced Jimmy Lewis through the obstacle course. If you're attending next year, be sure to stick around for the prize ceremonies, which gave out over $7,000 in parts, gear, and swag this year.
Whether you showed up on a sport tourer or a barely street-legal enduro, Northern NY has riding for everybody, from hilly sweepers to single-track snowmobile trails. Ten total routes were mapped out for this year's DirtDaze Rally, four of which were guided tours. One of the east coast's premier adventure touring and rental companies, MotoVermont, lead riders everyday on their Green Mountain Tour. Last year, ADVMoto called the Green Mountain Tour, "the perfect dual-sport ride", and this year's ride reaffirmed our thoughts. Eric and his team are fantastic guides are just generally fun to hang out with. MotoVermont even hosted their own Beer Tasting, (after the riding was done of course). If you prefer solo riding, maps and GPS routes were available at the check-in booth. Heck, you didn't even need to show up with a bike to go for a ride, since Suzuki, AJP, Beta, Ducati, Zero, and Christinibrought their own fleets to test ride. If that's not enough to keep you busy, several other manufacturers had their bikes up for demos at Americade.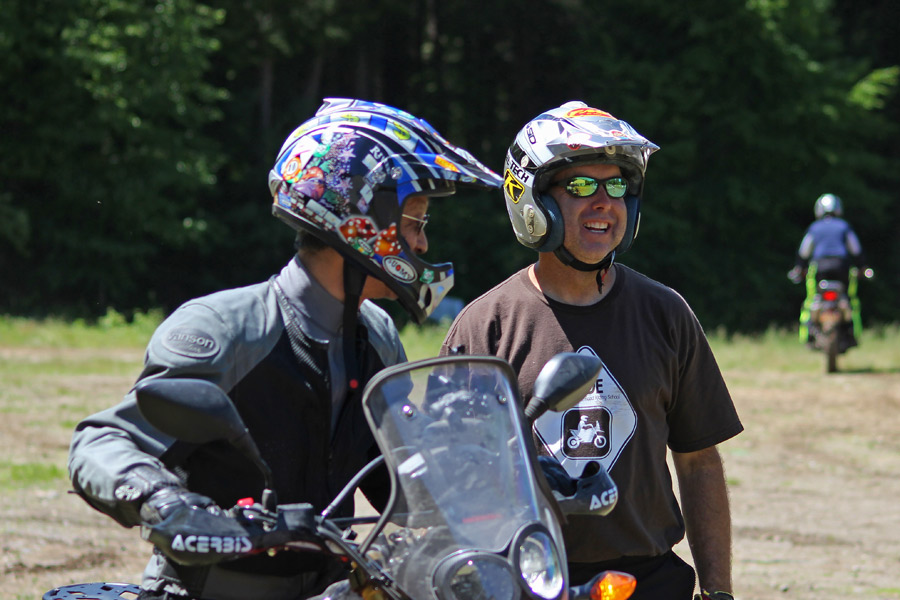 Based on the size of our market, DirtDaze will probably never be as massive as Americade, but it could easily become the biggest adventure motorcycle rally on the East Coast. That excites the heck out of us! In its second year, DirtDaze is already a great event and only has room to grow. We've already marked our calendars for next year's rally, June 6th-9th, 2018, and hope to see you there!
ADVMoto would like to express a special thanks to Christian and his team, the staff at Painted Pony Rodeo, and all of the vendors who made it out to DirtDaze. We appreciate everyone who visited our booth, signed up for subscriptions, or just dropped by to tell us how much they like the mag. We expect DirtDaze to explode in the next couple of years because the bikes are fun, the event is great, but most of all, the dual-sport/ADV community are the best people around. DirtDazeRally.com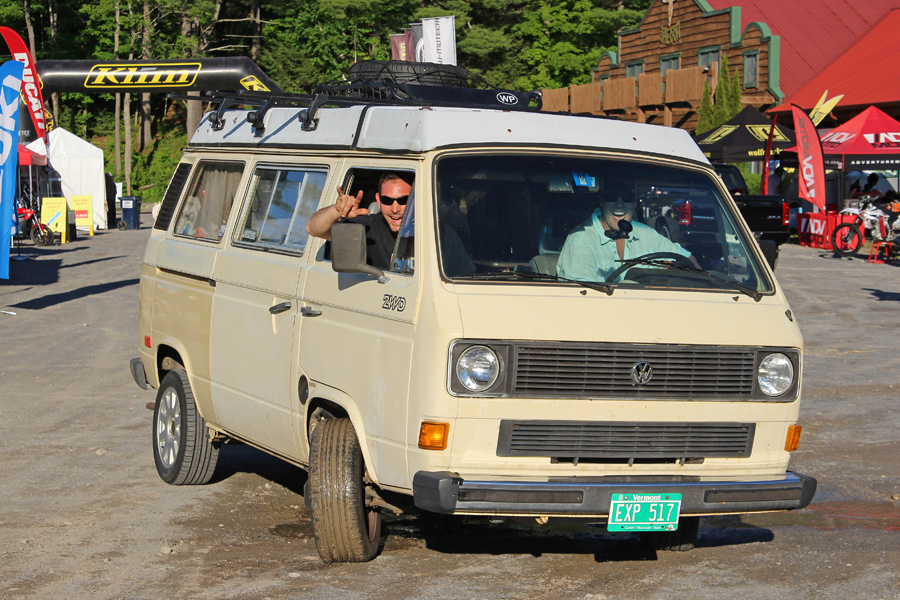 ---
DirtDaze Doubles In Size for 2017
The 2nd annual DirtDaze Adventure Bike Rally doubled in size in 2017.
The June 6-10 event saw a surge in attendance, with all guided rides selling out on site.
Several riders traveled from overseas, including adventure bikers from Morocco and South Africa.
The event was prepared for a surge, and attendees reported no delays or issues with the crowd size. "I loved it," said Rika De Bruyn, an avid adventure motorcyclist, and operator of the popular Lowveld Dual Bike Adventure rally in South Africa . "It was well organized, and the rides were good."
The event offered multiple guided and unguided rides deep into the Adirondacks and Vermont, offering scenic dirt roads and the occasional and optional "hero" (difficult) section. Factory demo rides were available on Suzuki's new Vstrom, as well as on models from Ducati, Beta, AJP and Zero Electric adventure bikes. Famed off-road riding instructor from Nevada, Jimmy Lewis, was on site providing week long instruction.
---
Suzuki to Offer Factory Demos on the New Vstroms
Lake Luzerne, NY : Suzuki will be offering factory demos at DirtDaze Adventure Bike Rally on their new and exciting Vstrom models. The rides are offered to select customers June 7-10, offering them an in-depth, hour-long demo experience on regional dirt roads. The models will include the Vstrom 1000XT, Vstrom 1000, Vstrom 650XT, and the Vstrom 650.
"The Vstrom is an excellent adventure bike for the Adirondacks, and the heavily revised 2017 models are getting great reviews," says Christian Dutcher, the Director of DirtDaze. "I know our attendees will love this rare opportunity."
Their tours will be first come first serve and will fill up quick, so make sure you get your chance to ride one of these before all the spots have been filled!
---
DirtDaze will feature the most adventure bike demo rides of any event in the U.S. Suzuki, Ducati, Beta, Zero, and AJP will be onsite offering demos on pavement and single-track routes. BMW, Yamaha and Honda will offer off-site demos on pavement.
The bikes available to demo onsite span the entire range of adventure/dual-sport/enduro bikes.
Suzuki is bringing in a full factory tractor trailer that will include the NEW 2017 V-Stroms 650 and 1000, as well as a full line-up of DR 400 and 650's. Cyclewise Vermont will provide demos on the Ducati Multistrada and Scrambler, along with the electric dual sport bikes from Zero Motorcycles.
Beta will demo their rare 500 RR-S and their exciting Xtrainer on the single-track loop, along with AJP Motorcycles who will feature their lightweight Portuguese enduro bikes.
Additionally, Christini will have their new all-wheel drive bikes on display. They will demonstrate their amazing climbing abilities on the DirtDaze Obstacle Courses.
Demos are also available off-site on the full line of Honda and BMW adventure bikes, and theYamaha Tenere.
---
We just added several miles of virgin, gorgeous trail section to the Lake George Lap.  It was already a great tour, and this section is the icing on the cake.  Rolling fields, trails through woods, etc.  It's good.
---
This is something you'll only see at DirtDaze. We'll have a fine selection of decorated riding legends on hand representing various riding styles on the property, including Jimmy Lewis – Baja 1000 winner). Shouldn't we find some reason to pit them against each other? Hell yes! Saturday at 5:00pm
---
Want to see how your flame throwers measure up to others? Twisted Throttle will be there with their lighting gurus measuring your lumens, ranking the best performing bikes, and awarding prizes. Friday at 9:30pm
---
BMW has a special treat for you. The latest BMWs will invade DirtDaze on 6:30 pm Friday, ridden by BMW factory reps. Some of the bikes will be seen in public for the first time that week, so you'll get the inside scoop before much of the U.S.
---
On Thursday night at 7:30pm, ADVMoto will present Back Country Discover Route's (BDR) latest film on the big screen in the Saloon. Kick back, have a drink and enjoy the movie, thanks to ADVMoto!
---
The Honda Factory Reps are coming to DirtDaze with most of their adventure bike line up. This will be a fun and rare opportunity to talk directly with the Honda Factory about their Africa Twin, NC700X, VFR1200X and more. Thursday at 6:30pm.
---
Sign up for DirtDAZE , the adventure bike rally in Lake Luzerne, NY, is open. 
The event is a fun, adventurous, and educational multi-day festival for dual-­sport and adventure motorcycles in northeastern NY.  Guided rides and rider training sessions are known to sell out, so secure your seat before they're all gone!
"We heard many great things from last year's attendees," said Christian Dutcher, DirtDaze's creator.  "This spring's rally is going to be about twice as big, and we've got several great rides planned."
Dirt Daze is held on a private, 53-acre adventure bike oasis. The bike rally offers great adventure bike rides roads through the mountains of the Adirondacks and Vermont, factory demos, obstacle courses, onsite camping and world class rider training.
Details are available at https://dirtdazerally.com/ and 518-798-7888. There are some volunteer positions available and prospective volunteers are encouraged to contact sue@americade.com.
---
2017 SCHEDULE ANNOUNCED
The 2017 schedule has been announced!  More rides, more vendors, bigger obstacle courses, more demos!  See the Schedule page for the latest details.  
---
TWISTED THROTTLE TO HAVE HUGE 2017 DIRTDAZE VENDOR BOOTH!
Your favorite adventure bike supplier, Twisted Throttle, is more than doubling their booth size at the DirtDaze Adventure Bike Rally.  They loved last year's event, and will be bringing much more gear to the event, and will be doing installs onsite.  Yeehaa!
---
Demo Select Ducati and Zero Motorcycles at 2017 DirtDaze!
Demo the brand-spankin' new Ducati Multistrada Enduro and the new Scrambler at DirtDaze!
Or, demo Zero Motorcycle Electric Enduro bikes, including the cutting edge Zero DSR . Both will be here, thanks to Cyclewise Ducati.
---
2016 Info Below
BREAKING NEWS:  Demo Select Ducati and Zero Motorcycles onsite!
Demo the brand-spankin' new Ducati Multistrada Enduro and the new Scrambler at DirtDaze!
Or, demo Zero Motorcycle Electric Enduro bikes, including the cutting edge Zero DSR . Both will be here, thanks to Cyclewise Ducati.
---
2016 PRESS RELEASE
The First U.S. Factory Demo for the Honda Africa Twin Will Take Place at the DirtDaze Adventure Bike Rally!
One lucky DirtDaze Attendee will be the first in the United States to test a factory demo Africa Twin!
The highly anticipated Honda Africa Twin will make its U.S. factory demo debut at the DirtDaze Adventure Bike Rally, in New York, June 7-11.  And someone at the event will win the opportunity to be the first in the United States to test ride this factory demo bike.
"I'm very excited that Honda chose DirtDaze to debut their Africa Twin," says Christian Dutcher, the man behind DirtDaze.  "The level of anticipation about that bike is extremely high, and I'm more than a little jealous whoever at the event gets to be the first in the country to hop aboard a factory demo."
RoadRUNNER Magazine's Facebook page is running a contest, now through May 26th, to choose the lucky attendee who'll get to ride the Twin first!  RoadRUNNER will announce the demo ride winner on Facebook and on http://www.RoadRUNNER.travel at noon eastern time on May 26, 2016 .The winner will also receive a five-day pass, to DirtDaze 2016 or 2017, valued at $179.
All attendees can take advantage of Honda's special access to the Africa Twin starting the morning of Tuesday, June 7th.  Following that introduction, Honda will offer a full array of factory demos on the Africa Twin, VFR1200X, NC500X and other models at their nearby demo location at Americade.  
DirtDaze also offers adventure bike rides throughout the Adirondacks and Vermont, world class rider training, adventure bike contests, stunt shows and camping.  
DirtDaze early signup ends May 8, but will be offered onsite June 7-11.  Some events have limited capacity, so interested riders are encouraged to sign up by May 8 at www.dirtdazerally.com
---
2016 PRESS RELEASE
BREAKING NEWS:  Demo Select Ducati and Zero Motorcycles onsite!
Demo the brand-spankin' new Ducati Multistrada Enduro and the new Scrambler at DirtDaze!
Or, demo Zero Motorcycle Electric Enduro bikes, including the cutting edge Zero DSR . Both will be here, thanks to Cyclewise Ducati.
---
2016 PRESS RELEASE
Lake Luzerne, NY: DirtDAZE To Offer Advanced Rider Coaching With Mike Lafferty!
NY Adventure Bike Rally in June has just added Mike Lafferty to the Dirt School lineup.
Mike Lafferty is perhaps the best enduro rider in the history of the sport (8x's National Champion, including 69 wins!), and he has kindly agreed to be a professional coach at DirtDaze for a select group of advanced riders. This is a rare opportunity to learn from one of the best in the world.
"Mike is a legend is the sport. How often can you get one on one instruction from someone like this," said Christian Dutcher, the DirtDaze Director. "If I weren't working that week, I would definitely be in his class!"
Mike's class is best suited to advanced riders on smaller displacement enduro bikes, looking for personal and informal coaching. Mike's coaching will focus on overcoming specific challenging riding obstacles in a slow speed and safe environment. Participants will receive extensive hands on coaching throughout the 2 hour class for only $60! Space is limited so it's important to sign up early to reserve your space.
Camping, meals and local beer are all offered onsite at the DirtDaze HQ. Sign Up and Event information can be found at www.dirtdazerally.com
---
2016 PRESS RELEASE
Lake George, NY: DirtDAZE To Feature Jimmy Lewis Off Road Riding School!                       NY Adventure Bike Rally in June attracts some of the best instructors in the U.S.
DirtDAZE is bringing in Jimmy Lewis and his Off Road Riding School from Nevada. Jimmy's school is considered one of the best riding schools in the U.S., and DirtDaze will be offering special 2 and 4 hour classes. Jimmy's full 2day class is typically offered at $600, however DirtDaze's 2 hour introductory classes will be offered at only $95! Jimmy's classes are limited to only 15 people per class, so this is an excellent opportunity to learn from the best in the business in a very personal environment.
"We're really excited that we were able to land Jimmy Lewis in our first year," said Christian Dutcher, the DirtDaze Director. "I think he's the best in the business, and I suspect his classes will sell out quickly."
Jimmy Lewis and his wife, Heather, are the chief instructors of the Off Road Riding School. Jimmy was the the overall winner of the Baja 1000 and the Dubai Rally, a Dakar podium finisher and an ISDE 4x Gold Medalist, and is a former Off Road Editor for Cycle World and Dirt Rider magazines.
Camping, meals and local beer are all offered onsite at the DirtDaze HQ. Sign Up and Event information canbe found at www.dirtdazerally.com
---
2016 PRESS RELEASE
Lake Luzerne, NY: DirtDAZE Adventure Bike Rally To Feature Famous Stunt Rider, Teach McNeil World Champion, will perform on Saturday, June 11.
Teach McNeil will make a special appearance at the new DirtDaze Adventure Bike rally in upstate New York. Teach is a World Champion stunt rider on pavement, but he's equally amazing on dirt. Over a million viewers who watched a video of him performing on dirt can attest to this, and attendees of DirtDaze will get front row seats to this incredible performance.
"Our attendees are going to be blown away by what Teach can do on an adventure bike," said Christian Dutcher, the man behind the DirtDaze. "Teach's performance is just one more thing that is going to make the inaugural DirtDaze something very special."
DirtDaze attendees will enjoy multiple adventure bike rides through the best dirt roads of the Adirondacks and Vermont,factory demo rides from KTM, Honda and Yamaha, a special obstacle course, rider training by world famous Jimmy Lewis, fun riding events, and much more. Interested riders are encouraged to sign up early, because some events may sell out.
Teach McNeil is a multidimensional rider with an expert road race license and extensive dirt background. He's a 2 time XDL East Coast Champion as well as the 2008 Stuntwars World Champion. He has won or been on the podium in virtually every competition he has entered in the past 7 years.
Sign Up and Event information can be found at www.dirtdazerally.com
---
2016 PRESS RELEASE
Lake Luzerne, NY: DirtDAZE Rides Rugged Vermont Terrain To Hidden Motorcycle Museum
Who says dirt trails, vintage motorcycles, and sausage don't go together?
MotoVermont is partnering with DirtDaze to lead the Green Mountain Guided Ride on a full day excursion along ancient dirt roads and through some of the most beautiful and remote trails found in Vermont.
Riders will be led through technical sections in eastern New York and western Vermont. The lunch stop features an italian feast at a unique motorcycle museum tucked into the mountains of Vermont, giving DirtDAZE riders access to the largest collection of Hodaka Motorcycles in the World. Hodaka's were a late 60's, early 70's American Japanese collaboration, credited by some with starting the trail bike craze in theU.S.
"This is one of the coolest adventure bike rides I've heard of, and I think it will sell out early," said Christian Dutcher, Director of DirtDaze. "It's a great ride on some beautiful, unknown dirt roads including challenging terrain. And, the lunch stop is inside a virtually unknown Hodaka museum well off the beaten path. It's great."
DirtDaze registration is open now at www.dirtdaze.com . Some events have limited availability, and interested riders are encouraged to sign up early.
About DirtDAZE: DirtDaze is a large adventure bike rally scheduled for June 7 – 11,2016 in northeastern NY. It offers adventure bike rides into the New York's Adirondacks and Vermont's Green Mountains, as well as factory demo rides, professional rider training, evening entertainment, camping and meals.
About MotoVermont: MotoVermont is a motorbike Rental and Tour outfit based in Burlington, Vermont. In addition to renting a fleet of quality Touring and Dual Sport motorbikes, MotoVermont offers several off road tours and training events throughout their home state. They have an intimate knowledge of the Vermont trail network and were the natural choice to create and lead the DirtDAZE Green Mountain ride.
---